You are not alone!
We understand bankruptcy is not an easy decision. We are here to help you navigate through the process. Unlike other law firms, our Arizona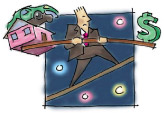 based attorneys,
not paralegals, meet face to face with you and personally see you through the entire bankruptcy procedure as your advocate.

We realize your circumstances mean money is tight so we streamlined our overhead expenses to make bankruptcy affordable and accessible to you with our $999.00 flat fee for most cases.
Call today and schedule a free consultation with your attorney. Let us ease your financial burden and restore your peace of mind.
(480) 329-8219
info@azdiscountbankruptcy.com